Décembre 2004 - December 2004.
Solar Power Aircraft Will Make Broadband Available To All December 23, 2004
An international project is developing new technology that can be installed into high altitude platforms - such as solar powered aircraft or airships - to make Broadband Internet access available to remote areas and moving trains.
With the help of 3.1 million euros from the EU's Framework Programme, the CAPANINA project brings together 13 partners from across Europe and Japan and is named after the restaurant in Italy where initial discussions were held. It will develop the equipment to operate from aircraft or airships operating as 'High Altitude Platforms' (HAPs) that are permanently located in the sky. Placing these HAPs at an altitude of 20 kilometers http://www.physorg.com/news2491.html
First manned Chinese helium airship approved 22 December,2004
BEIJING, 12/22 - Chinese aviation authorities approved a new helium airship here Wednesday, the first developed entirely in China. The HJ-2000 airship, developed by the Beijing Huajiao Airship Co., Ltd., was granted flight licenses by the General Administration of Civil Aviation of China (CAAC) for two airborne vehicles, ending China`s history of relying on imported manned airships. According to the Beijing company, the HJ-2000 airship is an airborne vehicle obtaining most of its lift from helium, a lighter- than-air gas.
http://www.angolapress-angop.ao/noticia-e.asp?ID=306432
Emirates Neon in unprecedented AED 25.5 million deal with Skycruise
for revolutionary airship advertising initiative
For the first time in the UAE and the entire Middle East, Emirates Neon, the leading name in signage and advertising has announced an AED 25.5 million deal with Skycruise International to launch a unique 21st century, revolutionary, advertising initiative for the Middle East.
http://www.ameinfo.com/news/Detailed/49968.html
Telecommunications: After years of hype, a new, cheaper way to blanket cities with wireless coverage may finally be about to get off the ground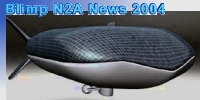 THE recent success of Burt Rutan's SpaceShipOne, the first private spacecraft, has brought commercial space travel a step closer. Virgin Galactic, Richard Branson's new space-tourism company, which has licensed Mr Rutan's technology, already has £800m ($1.5 billion)-worth of ticket reservations, though flights will not begin until 2007. But as the fledgling space-tourism industry lifts off, another more mature space business could be heading for a fall. The communications-satellite industry, arguably the only space industry that actually makes any money, may find itself usurped by an unlikely technology that is a lot more down to earth. http://www.economist.com/science/tq/displayStory.cfm?story_id=3423026
New Technology from Geneva Aerospace Transforms Blimps into Satellite-Quality Communications Links for Army Units

CARROLLTON, Texas--(BUSINESS WIRE)--Dec. 1, 2004--Blimps are back. By adding Geneva Aerospace's industry-leading unmanned autonomous flight control technologies to blimps, the military soon will have more cost-effective communications capabilities in combat areas.
http://biz.yahoo.com/bw/041201/15626_1.html
Octobre 2004 -- October 2004.
BLIMPBALL IN NAVY TESTS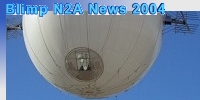 They may look a litle silly -- like giant volleyballs, kinda. But the Navy thinks that big, round blimps may just be the key to spying on terrorist camps, and communicating with its sailors.
As we've mentioned before, the U.S. military has been on a bit of an airship kick, lately. That's because the helium-filled, lighter-than-air craft can stay in the skies a whole lot longer than fuel-eating jets. And that means the blimps could work as floating cell towers or observation posts.
Round airships have some advantages over their cigar-shaped cousins, said Hokan Colting, who designed the SA-60 spherical blimp for the Navy.

Friday October 22, 5:44 PM Germany's Airtrain to Make Airships in China
GUANGZHOU, Oct 22 Asia Pulse - Germany's Airtrain Co., Ltd. plans to invest 500 million euros (US$630.9 million) to make airships
in Lianzhou City, Guangdong Province, according to a letter of intent recently signed by the company with the Lianzhou City government.
It will be the first commercial transport airship manufacturing project in China.
According to a spokesman of Airtrain, the German company plans to work out the first airship for commercial transport use in four years.
DARPA'S U-HAUL IN THE SKY
Relying on deep-water ports and billion-dollar airports to move its men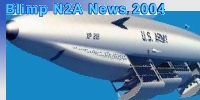 and machines keeps the Army stuck in molasses mode.
It can take weeks -- even months -- to get a division ready to fight. Take the 4th Infantry Division, for example; it missed out on the first months of the Iraq war, waiting for its gear to take the slow boat in from Turkey. Darpa, the Pentagon's mad science division, has a typically far-out solution: a gi-normous airship that can take an 1,800-person "unit of action" anywhere in the world, without infrastructure, in four days.
Steve Fossett sets world record for airship speed
Wed, Oct 27, 2004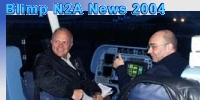 FRIEDRICHSHAFEN, Germany (AFP) - American adventurer Steve Fossett set a world record by piloting a new generation airship to 111.8 kilometres (69.5 miles) per hour over Lake Constance, the organisers said.Fossett, 60, beat the previous record held by British pair Jim Dexter and Mike Kendrich, who flew at 92.8 km/h in a "Lightship A60"
http://records.fai.org/airships/pending.asp http://www.fossettchallenge.com/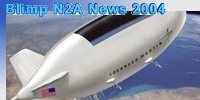 GIANT, LASER-POWERED BLIMP
Airships 25 times the size of the Goodyear blimps: yawn. Airships 25 times the size of the Goodyear blimps, powered by laser beams: cool!
By 2006, the Missile Defense Agency is hoping to fly its High Altitude Airship -- a dirigible that floats at 65,000 feet, and spots attacks from up to 350 miles away. The blimp is supposed to be solar-powered, mostly. And the MDA is investing a bunch of money into new-fangled photovoltaic panels and fuel cells.
Septembre 2004 - September 2004.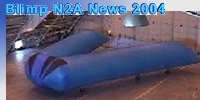 GIANT BLIMP SET FOR TAKEOFF
"Next month, a V-shaped airship bigger than a baseball diamond is due to rise from the West Texas desert to an altitude of 100,000 feet, navigate by remote control, linger above the clouds and drift back to earth," Defense Tech pal (and MSNBC correspondent) Alan Boyle writes.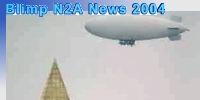 Wednesday, September 29, 2004 Posted: 10:37 AM EDT (1437 GMT)
Security blimp tested in Washington skies
The Defense Department's test blimp patrols the Washington skies Wednesday.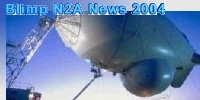 PENTAGON BLIMP FETISH ON THE RISE
The old blimp-building airdock in Akron hasn't been on the cutting edge of much of anything for almost 70 years. But that may be about to change.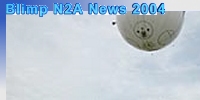 Boeing to supply airship maker with RC technology
ATLANTA (AP) — A Georgia company says an airship it has developed for use in homeland defense and communications will be able to be controlled by remote anywhere in the world thanks to a deal with Boeing.
The SA-60 low-altitude surveillance airship hovers over a field at Duke Regional Airport in Hollywood, Maryland
http://www.usatoday.com/tech/news/surveillance/2004-09-21-rc-airship_x.html
Août 2004 -- August 2004.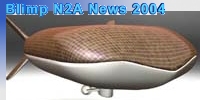 Sanswire Networks Starts Countdown To Launch Atlanta GA (SPX) Aug 05, 2004
Sanswire Networks, a wholly-owned subsidiary of GlobeTel Communications announced Wednesday that it has scheduled the launch date of its first Stratellite.
Ready to be launched into the stratosphere by the end of January, 2005
Juillet 2004 -- July 2004.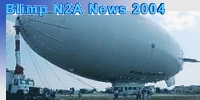 18 July --- Athens readies blimp for Olympic terror patrol.
The airship likely will adopt the name Phevos, after Athens' Olympic mascot.
18 Juillet --- Athènes - Le dirigeable prêt a patrouiller au dessus des JO2004.
Le dirigeable adoptera le nom Phevos, mascotte Olympique d'Athènes 2004.
http://www.capecodonline.com/cctimes/sports/athensreadies18.htm
http://www.clarionledger.com/apps/pbcs.dll/article?AID=/20040718/SPORTS/407180352
Juin 2004 -- June 2004.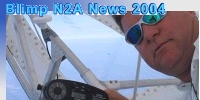 28 Juin 2004, Le SA-60 le dirigeable de surveillance bas d'altitude a volé à 10,000 altitude de pieds
28 June 2004, the SA-60 low altitude surveillance airship has flown at 10,000 feet altitude
http://www.proxygen.com/37/Editorial.asp?aff_id=32&this_cat=News&action=page&obj_id=945
NAVAIR Evaluating Spherical Airship For Surveillance Applications
http://www.aviationnow.com/avnow/news/channel%5faerospacedaily%5fstory.jsp?id=news/eva06294.xml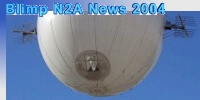 SA-60 Surveillance Airship Takes Flight as Planned, All Systems Operable
24 June,
http://www.proxygen.com/37/editorial.asp?aff_id=32&this_cat=News&action=page&obj_id=928#
http://home.businesswire.com/portal/site/altavista/index.jsp?ndmViewId=news_view&newsId=20040624005448&newsLang=en
Le ZEPPELIN NT de la société NAC a quitté Friedrichshafen le 13 Juin.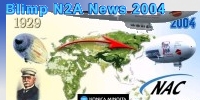 Le Zeppelin NT-07 JA101Z sera visible : 15 Juin Freiburg/Breisgau - Paris aérodrome de Chavenay ( 78 ) - 16 Juin Paris - Tours de Paris
17 Juin Conference de Presse Paris - 18 Juin jour de maintenance- 19 Juin
Ensuite Escale : Antwerp -- Rotterdam -- Mainz -- Luxembourg -- Friedrichshafen -- Munich -- Prague -- Berlin -- Hannover --
Lübeck -- Copenhagen -- Jönköping -- Stockholm -- Helsinki -- St. Petersburg -- Moscow -- Japan
Suivre le voyage du JA101Z sur le site http://www.hotelbravo.ch/ja101z/index.html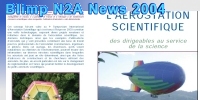 L'AEROSTATION SCIENTIFIQUE
des dirigeables au service de la science.
THE SCIENTIFIC AEROSTATION
Summarized by the 1-st International Symposium of Scientific Aerostation, Royan-2003.
www.objectifbasedirigeables.com

Objectif Base Dirigeables est une association créée suite au 1er symposium sur l'aérostation scientifique (Rêve d'Icare à Royan en juin 2003 ).
Le colloque de Royan a permis de faire le point sur la recherche dans le domaine des dirigeables, notamment les projets ULM classe 5, et de mettre à jour l'obstacle le plus important : le manque d'infrastructures pour accueillir les prototypes et les faire voler. Chaque équipe ou personne porteuse d'un projet de ballon dirigeable est confrontée au besoin de trouver un hangar pouvant abriter son dirigeable et un terrain de manœuvre permettant les essais en vol. www.objectifbasedirigeables.com
L'association propose à ces porteurs de projets, aux différents acteurs et utilisateurs concernés par le développement des dirigeables, de s'associer afin de trouver une solution collective au problème du manque d'infrastructures adaptées.
May 2004 -- May 2004.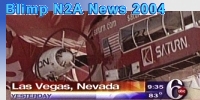 22 Mai 2004, Le blimp Lightship A150 " Saturn " se crache sur 2 Buildings de Las Vegas.
Blimp Lightship A150 " Saturn "Crashes Into 2 Las Vegas Buildings.
http://news.yahoo.com/news?tmpl=story&u=/ap/20040522/ap_on_re_us/blimp_crash_1

L'association EndlessFlyers relance le projet de traversée de l'Atlantique en dirigeable.
Contactez Stéphane Rousson président de l'association et pilote du dirigeable.
http://www.endlessflyers.com

Airship groomed for flight to edge of space http://www.jpaerospace.com/
The Air Force will be testing a 155-foot-long, V-shaped, helium-lift airship called Ascender. A smaller, 92-foot model has already been successfully tested inside its hangar. For flight testing of the Ascender, the Air Force plans to fly it to 30 kilometers, have it maneuver between two points using its autonomous GPS-based navigation system, loiter over the second point, and return to its base. While Ascender uses lightweight carbon-fiber propellers to generate thrust, it has, in addition, a unique system that transfers helium between its two chambers to provide additional maneuverability by shifting its center of gravity and adjusting tri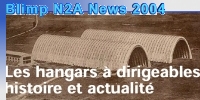 " Les hangars à dirigeables histoire et actualité " Les 4 & 5 Juin 2004.
Séminaire au Palais des congrès de Royan ( 17 )
Pour toutes informations consultez le site
" Hangars with airships history and current events "
Seminar in Royan's ( 17 ) conference hall On June 4 and 5, 2004. For any information consult the sitewww.objectifbasedirigeables.com
Tournée Européenne Zeppelin NT-07 D-LZFN - Nouvelle BMW serie 1.
du 14 Mai au 20 Juin :
Slovenia - Croatia - Serbia - Bulgaria - Turkey - Bulgaria.
BMW Transeurpean Tour 2004 Zeppelin NT-07 D-LZFN New BMW 1 Series. 14 May at 20 June. www.one-ahead.com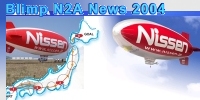 Nissen Tour 2004.
Lightship A60+ Nissen
Du 24 Avril au 30 May.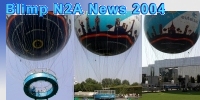 GONFLEMENT DU BALLON DE PARIS
Le gonflement du ballon Eutelsat est prévu cet après-midi jeudi 13 mai à 17 heures ! Aeroparis - Parc André Citroën - 2, rue de la Montagne de la Fage - 75015 Paris
Avril 2004 -- April 2004.

BTS Tag Aviation Group
http://www.btstag.com/eng/main.html
Le Airship Group est le résultat de quinze ans d'expertise fortement soutenu par sa compagnie soeur, le Groupe Alom. http://www.alomroup.com

The Airship Group is the result of fifteen years of accumulated expertise and technology development strongly supported by its sister company, the Alom Group.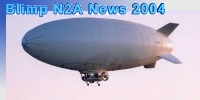 Aviation Civile Anglaise autorise la société ATG, de Produire son nouveau dirigeable AT-10 Dirigeable. Après 150 heure.
The Civil Aviation Authority of the United Kingdom grants ATG with 'Production Organisation' to its new AT-10 technology Airship.
http://www.atg-airships.com/prod/caa_updates_data.htm

AERO SYSTEMES exploitant un dirigeable de classe ULM.
Aérodrome de Blois le Breuil 41330 La Chapelle Vendômoise
Tel : +33 (0)2 54 56 3000 Fax : +33 (0)2 54 56 3001
contact@aero-systemes.com http://www.aero-systemes.com

MédiaCausse - Médiazepp
Publicité par dirigeable ( captif - RC )
Cayssac 46240 Montfaucon Tél 05 65 21 11 25

Columbus, GA site pour une usine de dirigeable, création de 1000 Emplois.
Columbus, GA Will Be Site for New Airship Plant, Up to 1,000 Jobs
http://www.localtechwire.com/article.cfm?u=7646
http://www.ajc.com/business/content/business/0304/30airships.html
http://www.ledger-enquirer.com/mld/ledgerenquirer/8305385.htm
Mars 2004 -- March 2004.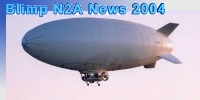 The Civil Aviation Authority of the United Kingdom grants 'Special Category' to new AT-10 technology Airship.
4 Mars 2004,
Le dirigeable ATG AT-10 obtient son certificat de l'Aviation Civile Anglaise.

The Vertical Airship Organization

is a private, not-for-profit, research organization dedicated to solving the engineering challenges associated with vertical airships. http://www.airship.org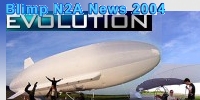 La société allemande Evolution Skyagency a présenté au salon de l'aviation légère AERO-2003 de Friedrichshafen son prototype FS200, , petit dirigeable Ulm mono-place propulser par un moteur de 25 cv. 20.80 m de long et d'un volume de 180 m3.
The German Evolution Skyagency company presented to the salon of the light aviation FRIEDRICHSHAFEN'S AERO-2003 its prototype FS200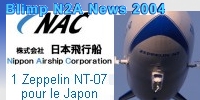 2 Mars 2004, La Zeppelin Luftschifftechnik GmbH a vendu un Zeppelin NT à la Société japonaise Nippon Airship Corporation. Ce Zeppelin est le Bodensee il devrait rejoindre par les airs le Japon, le voyage de 12000 kms est pour la mi 2004.

In March 2, 2004 Zeppelin Luftschifftechnik GmbH sold a Zeppelin NT to the Japanese Nippon Airship Corporation. This Zeppelin is Bodensee he should join by airs Japan, the escorting
of 12000 km is for the middle of 2004. http://www.nac-airship.com/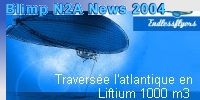 TENTATIVE DE RECORD DU MONDE DE VITESSE DE TRAVERSEE DE L'ATLANTIQUE.
L'association EndlessFlyers relance le projet de traversée de l'Atlantique en dirigeable.
Le dirigeable Liftium 1000 m3 de Didier Costes.
Essais en vol été 2005 et la tentative est prévue pour l'Automne 2005.
Contactez Stéphane Rousson président de l'association et pilote du dirigeable. http://www.endlessflyers.com
Février 2004 -- February 2004.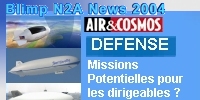 Air & Cosmos 1924 du 20 Février 2004.
Dirigeables : la défense française s'interroge. L'état-major des armées étudie l'intérêt potentiel des dirigeables.
La société AirshipVision International propose son projet "Sentinelle". Un Zeppelin NT-07 pour la surveillance aéromaritime et terrestre. Dirigeable de transport lourd : la DGA en veille.Début Mars, l'état-major des armées remettra au ministre de la défense un rapport sur l'intérêt que pourrait avoir le " plus léger que l'air".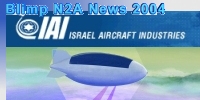 La société IAI étudie un dirigeable haute altitude HAA.
Long de 200 m, il prendrait position à 21 kilomètres d'altitude. La société pense se rapprocher du projet de Lockheed-Martin. Projet HAA for IAI.
The Israel Aircraft Industries is developing a craft 200 meters long and 60 meters wide that will be geostatically positioned 21 kilometers in the air to photograph objects as far away as 1,000 kilometers, sending the images back to a ground station.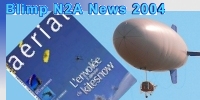 Aérial N° 34 Février-Mars 2004. Un toit pour les sans-abri.
Pour relancer l'activité du dirigeable en France, les hangars ne sont plus là.
De nombreux hangars à dirigeables ont été construit, il n'en subsiste 5 ou 6 complètements délabrés, vestiges d'un très lointain glorieux passé.
L'association Objectif Base Dirigeables lance le défi de créer un site voué à la renaissance du dirigeable. De son coté sur la base de Moulins-Montbeugny un hangar à dirigeables sera construit pour abriter le classe 5 Ulm Voliris 900, ce dirigeable a effectué ses premiers essais en vol en Juin et Juillet 2003.
Janvier 2004 -- January 2004.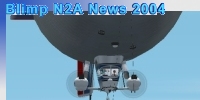 Un dirigeable de plus dans le monde du virtuel. Le Goodyear GZ 20A pour Fly Simulator 2002.
Après le WDL 1b, le Skyship 600b et Goodyear GZ 6.
A airship more in the world of the virtual.
Goodyear GZ 20A for Fly Simulator on 2002.
After the WDL 1B, Skyship 600b and Goodyear GZ 6.
- LES ETUDES DE SYNTHESE effectuées ces dernières années en EUROPE, aux ETATS UNIS, au CANADA et dans le reste du monde notamment au JAPON et en CHINE sur les MARCHES POTENTIELS du dirigeable (relais de communication, transports lourds et encombrants, désenclavement, secours humanitaires, environnement, tourisme etc...)

- LES PROJETS de dirigeables de toutes dimensions et à tous usages dans leurs aspects techniques, économiques et financiers.

- LES STRATEGIES DE DEVELOPPEMENT INDUSTRIEL dans le domaine aéronautique compte tenu des contraintes en matière de réglementation aérienne et des pratiques de financement dans ce secteur industriel. www.colloqueaerall.com contact@colloqueaerall.c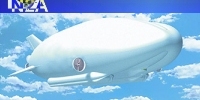 ATG - Destination Deutschland...ATG Cardington-basée à Cardington UK - se déplace en Allemagne, dans ce pays les aides gouvernementales sont plus importantes pour l'industrie du dirigeable.
Cardington-based ATG – Advanced Technologies Group – is to set up an office in the land of the Zeppelins to push efforts to sell its blimps.
http://www.bedfordtoday.co.uk/ViewArticle2.aspx?SectionID=545&ArticleID=721753
6 Janvier 2004. Goodyear annonce que le Spirit of Amercia accidenté en Décembre 2003, sera reconstruit.
Goodyear's 'Spirit of America' to Fly Again
http://www.goodyear.com/media/pr/22828ai.html
http://www.ohio.com/mld/ohio/business/7724481.htm
http://www.rubberworld.com/news.asp?action=showart&id=3795
http://www.newsnet5.com/news/2769971/detail.html