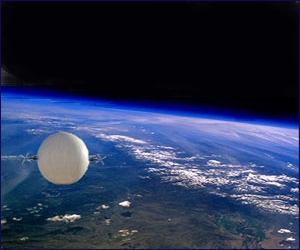 September 28, 2007 Cyber Defense Subsidiary Techsphere Systems to Build New "BULLET" Airship Technology for Mid Altitudes; New Prototype Test Flight Successful
Cyber Defense Systems, Inc. (OTCBB: CYDF), a designer and developer of next generation unmanned aerial vehicles (UAVs), and its wholly owned subsidiary Techsphere Systems International, Inc. (TSI), a designer, developer and manufacturer of manned and unmanned airships, announced today that it will build two new Mid Altitude "BULLET" Airships.
Under the exclusive global technology license with 21st Century Airships, Techsphere will begin manufacturing two "BULLET" airships designed for altitudes of 20,000 and 40,000 feet capability with a minimum of 48 hours flight duration with estimated speeds up to 60 knots with a manned or unmanned configuration. Recent wind tunnel tests by 21st Century confirmed the design and speed estimates.
The initial test flights were exceptional utilizing a fly by wire thrust vectoring capability. "Just imagine being able to fly straight up and down, turn on its axis, and fly sideways with an easy touch of a joystick," stated Hokan Colting of 21st Century.
The airship tested is approximately 120 feet long, cylinder shaped with two distinct pointed end caps with four engines mounted port and starboard in the fore and aft positions on the cylinder structure.
Techsphere will be utilizing the majority of the patented technologies from the spherical technology with the new "BULLET" version for Mid Altitudes. "The SA-60 spherical airships will continue to be our bread and butter for the 0 to 10,000 feet altitude capability. We are addressing the higher winds between 10,000 feet to 40,000 feet altitudes with a new shape for drag reduction, longer duration of flight, higher speeds with the maneuverability characteristics of the 'Sphere' technology," stated Mike Lawson, CEO of Techsphere.
The "BULLET" test flights will continue later this year with the second prototype near completion.
About 21st Century Airships, Inc.
21st Century Airships Inc., located in Newmarket, Ontario, Canada is a Research and Development company for lighter-than-air crafts. Founded in 1988, its objective is to improve traditional airship technology and develop modern airships for various applications. The company's R&D activities have resulted in a considerable number of significant inventions and patents. http://www.21stcenturyairships.com
ABOUT CYBER DEFENSE SYSTEMS
Cyber Defense Systems, Inc. is designing and building a new generation of UAVs. Cyber Defense is currently marketing the airships and their CyberBug(TM) UAVs to various branches of the U.S. government and U.S. allies as multi-use platform vehicles capable of deployment in surveillance and communication operations. Cyber Defense Systems, Inc. http://www.cduav.com (OTCBB: CYDF)
ABOUT TECHSPHERE SYSTEMS INTERNATIONAL
Techsphere Systems International, Inc., a wholly owned subsidiary of Cyber Defense, located in Atlanta and Columbus, GA, is the manufacturer of low, mid and high altitude airships. Together with their teaming companies, Techsphere will design and build unique airship platforms for use in many areas including surveillance, the military and wireless communications. The current spherical airship design holds the world altitude record at over 20,000 feet. http://www.techsphere.us.
Contact:
21st Century Airships, Inc. Hokan Colting 905-898-6274 http://www.21stcenturyairships.com
13 July 2006 New "Paint-On Antenna" Flies Successfully on Sierra Nevada Corporation Techsphere Airship
Technology for Next Generation Communications and Remote Sensing Systems
The National Aeronautics and Space Administration (NASA) Langley Research Center , RTI International, Applied EM, Inc., International Communications Group, Unitech, Sierra Nevada Corporation (Sierra Nevada), and Techsphere Systems International, Inc. (Techsphere), a wholly owned subsidiary of Cyber Defense Systems, Inc.,, announced today that the test flights of the new generation "paint-on" antenna technology on board the SA-60 Spherical Airship were successful June 21, 2006 in the Nevada desert.
This was a worldwide exclusive to test the lightweight "paint-on antenna" technology on Sierra Nevada and Techsphere airship technology for communications and other applications. As part of an effort to develop new high-altitude communications and surveillance platforms, Applied EM, Inc. and Unitech, LLC are developing conformal "paint-on" antenna technology under an Air Force Small Business Innovative Research (SBIR) Program (Air Force Research Laboratory, Hanscom AFB). "Paint-on" antenna designs were used in the Airship flight test for Iridium Global satellite communications from several locations on the Airship. These antennas transmitted and received voice and data links via the global Iridium satellite system and overall radio frequency performance was outstanding. Iridium bit error rate data transmission and receptions were tested and voice communications to and from the Airship with teleconferencing were tested successfully.
In addition, the Airship flight experiment included NASA's GPS Reflectance Experiment, which was flown to evaluate Airship applications for soil moisture remote sensing missions. The NASA Langley Research Center (LaRC) is developing remote sensing applications of the Global Positioning System (GPS). While originally designed to relay navigation data, the satellite-transmitted GPS signal itself may be used to obtain a number of useful scientific measurements of both the earth's surface and of the atmosphere. This new technique utilizes the reflection of GPS signals from water, wet ground, or artificial conducting (metal) bodies. Researchers at Langley, in concert with their colleagues around the world, are developing theory, designing instrumentation, and conducting experiments to better understand the properties of the surface reflected GPS signal. The goal of the project is to apply the knowledge gained toward the development of low-cost, easily deployed, and widely applicable remote sensing systems.
Soil moisture is a relatively small component of the global hydrological cycle, but of great importance, nonetheless, in the development of it. Soil moisture is water in the ground and, as such, it plays a critical role in many biological and hydrological processes such as plant health, nutrient cycles, and cloud formation. The accurate and timely measurement of soil moisture content and its fluctuation is of paramount importance in the monitoring of natural hazards such as flooding and drought. The amount of water in the soil affects the transfer of energy between the surface of the Earth and the atmosphere by creating weather systems that can affect large populated areas. A highly water-saturated soil, for example, cannot absorb as much water as dry soil and can easily create runoff or flooding. The existence of an accurate map of soil moisture would provide information for agricultural efficiency, water management, disaster planning, and many other indirect applications.
Nonetheless, despite the fact that soil moisture measurements have been recognized as a priority in Earth science, continuous and far-reaching measurements are all but nonexistent. Present methods of measuring soil moisture, though accurate, are insufficient for use in forecast models to prevent disaster or to complement the understanding of the water cycle. However, the monitoring of soil moisture by means of remote sensing remains a topic of research and development rather than an operational capability. The recent launch of the satellite Aqua and the current development of new Earth looking systems, like the GPS reflectometer presented in this site, promise to provide better measurements of soil moisture to improve the understanding of nature and the quality of life on Earth. http://centauri.larc.nasa.gov/gps/index.htm.
RTI brought the team together as part of NASA's Innovative Partnership Program (IPP) to demonstrate the overall capabilities of high altitude airships for numerous NASA research applications. "The successful airship test flights demonstrate exciting possibilities for 'paint-on' antenna technologies," said David Myers, vice president of RTI's Engineering and Technology Unit. "This new technology can be used to assist with hurricane disaster relief, provide enhanced security of ports and borders, perform science observation missions and improve military communications."
"Our goal is to provide the most innovative low cost communication platform on the planet for government and commercial end users," stated Mike Lawson, chief marketing officer of Techsphere.
"This application shows the benefits of using our airship technology for communication, protecting our warfighters and implementing true border protection now," stated Billy Robinson, chief executive officer of Cyber Defense. more>>>
http://www.spaceref.com/news/viewpr.html?pid=20336
Cyber Defense System's Techsphere Subsidiary Leases Two Airships for $4.2 Million to Fortune 100 Corporation June. 13, 2006
ST. PETERSBURG, FL and ATLANTA, GA -- (MARKET WIRE) -- 06/13/06 -- Cyber Defense Systems, Inc. (OTCBB: CYDF), a designer and developer of next-generation unmanned aerial vehicles (UAVs), is pleased to announce that its wholly owned subsidiary, Techsphere Systems International, Inc., has executed a lease contract for two of its SA-60A Spherical Airships to a Fortune 100 company at an estimated initial contract value of approximately $4.2 million. >>> more