Un dirigeable pour émettre du haut débit ?
Et si le haut débit prenait de la hauteur ? C'est en tout cas l'idée d'un groupe de chercheurs qui veulent utiliser un dirigeable comme relais-émetteur.
Depuis plus d'un an, des équipes suisses et britanniques travaillent sur le projet "X-Station". Derrière ce nom de code se cache un projet tout droit sorti d'un James Bond. Les scientifiques veulent transformer un dirigeable de 100 mètres de long en véritable station haut débit !

http://www.ariase.com/fr/news/x-station-dirigeable-haut-debit-article-1375.html
http://www.journaldunet.com/science/visite-du-dirigeable-pole-airship/taille-xxl.shtml
Parcours du dirigeable AU30 de TOTAL POLE AIRSHIP
http://www.linternaute.com/video/sciences/88729/parcours-du-dirigeable-au30/
http://www.carnetdevol.org/actualite-ballon/pole-airship-gonflage/dirigeable.html
Octobre - - - October >>>>>> 2007
Lockheed to take wraps off top-secret air project?
Hybrid would use gas for buoyancy, but fly like plane Oct 30 2007
A scientist from a top-secret Lockheed Martin hybrid airships research project that has never been spoken about in public will be in Winnipeg this week addressing the Airships to the Arctic conference.
The advance buzz is that his presence may mean Lockheed will use the fourth annual Winnipeg conference -- which is becoming a must-attend event for airship aficionados from around the world -- as the venue to finally spill the beans on the secret airship project.
Lockheed has confirmed it is developing such a craft that uses lighter-than-air gas for lift, but also has engines and wings to fly like an airplane. However, it will not say anything more. The airship would be capable of carrying heavy loads across significant distances.
Like the wizards in the fictional world of the Harry Potter books who will not say the name of their nemesis out loud, company officials will not even utter the name of the project -- P-791.
http://www.winnipegfreepress.com/subscriber/business/local/story/4067435p-4669818c.html
Sanswire Delivers the 2A Airship To German Operation for Completion October 15
Sanswire Networks, a subsidiary of GlobeTel Communications Corp. today announced that the Sanswire 2A airship has been delivered to the TAO facility in Stuttgart, Germany to be refit and upgraded, pursuant to the action plan outlined in Sanswire's and TAO's previously announced agreement in principle to form the equally-owned Sanswire-TAO GmbH. The 2A, previously housed in Palmdale, California, is a 126-foot Lighter Than Air vehicle. more >>>
Total Pole Airship : baptême du dirigeable 12 Octobre 2007
Après la phase d'étalonnage de l'EM Bird en avril dernier qui fut couronnée de succès, le 12 octobre 2007 a lieu le baptême du dirigeable de Jean-Louis Etienne à l'aéroport de Marseille Provence. lire la suite
http://www.total.com/fr/group/news/news_2007/071012-total-pole-airship-bapteme_13892.htm
$5,800,000 for the HiSentinel program at Aerostar International Inc., in Sioux Falls, whichprovides a long-duration unmanned airship for 24/7 capability for intelligence, surveillance, communications and networking. Current platforms are limited to short duration missions of 24 hours or less, this provides an unmanned airship capable of carrying different payloads for durations greater than 30 days.

WASHINGTON, DC—Senator John Thune today issued the below statement following Senate passage of the FY2008 Defense Appropriations bill, which included several requests Senator Thune made on behalf of various South Dakota defense-related initiatives:

"After months of attempts by the Democrat Leadership to improperly use this important military funding bill as a political football, I am pleased that the Senate has finally gotten some of its work done. The significant funding in this bill would not only help our entire Armed Forces, it would directly enhance South Dakota's defense-related operations. These projects represent important research and new technology that will create jobs, boost our state's economy and provide for a stronger, safer America," Thune said.

/852////////////////////7The FY2008 Defense Appropriations bill passed by the Senate today includes the following requests made by Senator Thune: http://blackhillsportal.com/npps/story.cfm?id=2286
Cyber Defense Subsidiary Techsphere Systems to Build New "BULLET" Airship Technology for Mid Altitudes; New Prototype Test Flight Successful September 28, 2007
Cyber Defense Systems, Inc. (OTCBB: CYDF), a designer and developer of next generation unmanned aerial vehicles (UAVs), and its wholly owned subsidiary Techsphere Systems International, Inc. (TSI), a designer, developer and manufacturer of manned and unmanned airships, announced today that it will build two new Mid Altitude "BULLET" Airships. >>> more
Airship may link historic cities A futuristic passenger airship could provide commuters with a new link between two historic cities. BBC-NEW 5 October 2007
The Skycat helium balloon would float passengers from Cambridge to Oxford in an hour. The project is being developed at the Cardington sheds in Bedfordshire, the home of the UK's airship industry. >>> more
Un hangar pour abriter la dirigeable AU-30 de TOTAL POLE AIRSHIP sera construit sur la base de Chambley en Lorraine. 28 Septembre 2007.

http://www.cr-lorraine.fr/crlorraine/sites/crlorraine/fr/actualites/espacepresse/communiqusdepresse/474aeb183ef447c85a4355b22da71ae4
Septembre - - - September >>>>>> 2007
Voyager Airship 24 September 2007
We have just completed the test flights for the scale version of the Voyager Airship. The Voyager Airship is a 19-passenger craft, purpose designed for sightseeing rides. As expected, the airship was extremely maneuverable and is able to perform VTOL (Vertical Take-Off and Landings). Steering and altitude controls are activated with a joystick, making the pilot's workload very light.
Le ZEPPELIN NT-07 D-LZFN accidenté au BOTSWANA.

Jeudi 20 Septembre 2007 14h10. Le prototype du dirigeable NT-07 était amarré à son mât, un vent tourbillonnant, phénomène peu courant, le dirigeable aurait subi de lourds dégâts.
L'appareil se trouvait sur la base d'exploration de la mine de JWANENG.
Un membre de l'équipe au sol a été blessé et hospitalisé.
Des experts vont analyser les causes de cet accident.
Nota : Cet dirigeable D-LZFN le prototype du modèle NT-07, il venait de fêter son dixième anniversaire quelques jours avant l'accident.
L'appareil est exploité au Botswana pour le diamantaire De-Beers depuis l'automne 2005.
Strong winds damage De Beers airship in Botswana
JOHANNESBURG, Sept 21 (Reuters) - Strong winds damaged a high-tech zeppelin that diamond giant De Beers was using to explore for diamonds in Botswana, the firm said on Friday.
http://www.zeppelin-nt.de/pages/E/presse_u_news.htm
http://www.int.iol.co.za/index.php?set_id=1&click_id=68&art_id=nw20070921112640201C557009
http://afp.google.com/article/ALeqM5hLluaTg4tXvEFk33Yrcg0MTmgRYQ
http://africa.reuters.com/wire/news/usnL21346659.html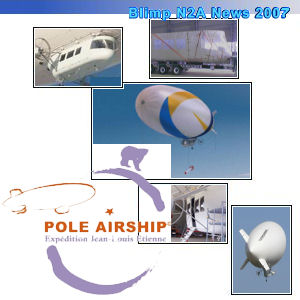 18 Septembre 2007, Les différents éléments du dirigeable AU-30 de l'expédition TOTAL-POLE-AIRSHIP sont arrivés par avion cargo Iliouchine 76 sur l'aéroport de Marseille-Marignane.
L'appareil sera assemblé par une équipe Franco-Russe.
Après 5 mois de retard, d'ici quelques jours l'appareil devrait effectuer ces premiers essais en vol dans le ciel Marseillais
Plusieurs pilotes vont être formés sur dirigeable, avec comme instructeur le célèbre pilote français Dominique Manière http://www.airship-consulting.com/.
http://www.jeanlouisetienne.fr/poleairship/magazine.cfm?nummag=21
Fin de l'aventure VAGA (la Vie Au Grand Air), le dirigeable classe 5 Ulm "Voliris-900" termine sa campagne publicitaire le 8 Septembre 2007. Voir les pages et images sur
www.voliris.com www.classe5ulm.fr http://airships-europe.blogspot.com/
Août - - - August >>>>>> 2007
LAON, 3 Août . "Ce tour de France fonctionne à l'air pur"
4éme étape du dirigeable www.lacainemeteo.com
http://www.lunion.presse.fr/index.php/cms/13/article/35878/Ce_tour_de_France_fonctionne_a_l_air_pur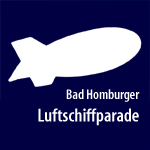 PARADE DE DIRIGEABLES, la 5éme Parade de Bad-Homburg, Allemagne. 9 Dirigeables à Air-chaud. le 11 Août 2007.
LUFTSCHIFFPARADE the 5th Airship Parade in Bad Homburg, Germany. 9 Hot-Airships this years. On August 11th
Bad Homburg is located just 15 minutes north of Frankfurt and easily reachable from Frankfurt Airport.
http://www.bad-homburger-luftschiffparade.de/web/home/index.htm
The Aeros 40D S/N 40D-21 Sky Dragon airship gondola roll-out
http://www.pr-inside.com/the-aeros-40d-s-n-40d-21-sky-r187862.htm
Juillet - - - July >>>>>> 2007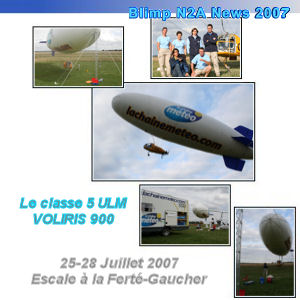 Suivez la tournée de Classe 5 ULM de la "Chaine Météo".
Voir les photos sur :
Juin - - - June >>>>>> 2007

« Le Skyship N-602SK reprend le chemin des airs »
Depuis 1989 il volait pour la société "FUJI" aux USA, mais fin 2006 FUJI décide de passer à un autre vecteur publicitaire.

Ce dirigeable "FUJIFILM"était aussi médiatique que les "METLIFE", "GOODYEAR", "HOOD" visiblent depuis des années dans le ciel américain.

L'aventure du SKYSHIP N°7 se prolonge sous une enveloppe blanche.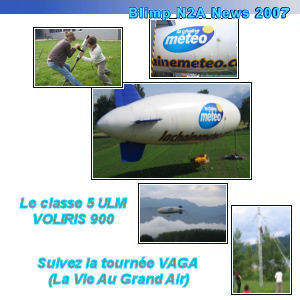 METEO CONSULT – La Chaîne Météo, annonce le lancement de l'opération « La Vie au Grand Air », destinée à promouvoir « La Chaîne Météo »
Le dirigeable Voliris 900 réalisera, de juin à septembre, un tour de France en 25 étapes. Au cours de ce périple de plus de 3500 kilomètres, des spots télévisés seront tournés dans les villes traversées et seront envoyés à La Chaîne Météo qui les diffusera. La raison d'être de ce défi est double : développer la notoriété de La Chaîne Météo auprès du grand public mais aussi faire découvrir le monde des dirigeables au plus grand nombre afin d'en favoriser la pratique et l'exploitation.
Deux équipes de six personnes se relayeront au cours de l'été par intervalle de 15 jours.
http://www.lachainemeteo.com/dirigeable_communique.php
Voir l'aventure du dirigeable VOLIRIS sur le site des Aérostats Classe 5 Ulm www.classe5ulm.fr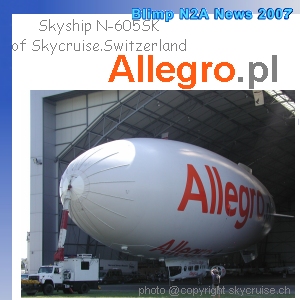 Le Skyship 600 N-605SK de Skycruise Switzerland reprend les airs après 1 mois passé dans le hanger ZEPPELIN de Freidrichshafen.
La nouvelle décoration pour "Allegro" une société polonaise de vente sur internet. www.allegro.pl
Le blimp a quitté les bords du lac de Constance (Le Bodensee) Jeudi 31 Mai en direction de la Pologne.
Tournée publicitaire de Juin à Octobre 2007.
Bons vents à ce Skyship qui est le seul a voler à des fins publicitaires cette année. Un autre Skyship le N-606SA non décoré vole pour le compte de la police de Trinidad & Tobago depuis Juillet 2006.
Quelques photos sont visibles sur le blog
http://airships-europe.blogspot.com/
Mai - - - May >>>>>> 2007
Tutorial: How to Get Your Marketing Message on a Blimp - Costs, Creative & ROI
Look up in the sky. It's a blimp with your marketing message on it! If this is something you've always dreamed of doing for a campaign, then check out our latest tutorial. Although it's an extravagance, blimp advertising can show more ROI than what you might think.
http://www.marketingsherpa.com/article.html?ident=29984
Snoopy lands in Fulton
Lightship 60+ (15) N-605LG Snoopy-2
http://www.fultonsun.com/articles/2007/05/13/news/232news05snoopy.txt

Avril - - - April >>>>>> 2007
Operations of the newest Aeros 40D Sky Dragon airship begin in China. EMAILWIRE.COM, April 06, 2007
Tarzana, CA -- The FAA Type Certified Aeros 40D Sky Dragon airship – the most technologically advanced on the market – began operations in China. Worldwide Aeros Corp, leading airship manufacturer in the world and maker of the airship, launched operations with the successful first flight on March 27, 2007. >>>more
Début des opérations du nouveau dirigeable Aeros 40D "Sky Dragon"
en Chine.
http://www.beretairlines.com/index.html
Per Luftschiff zum Nordpol - Zeppelinexpedition soll Meereis der Arktis vermessen 5. April 2007
Erstmalig wollen Wissenschaftler im Jahr 2008 ein kontinuierliches Profil der Eisdicken von der kanadischen Küste über den Nordpol hinweg bis zur sibirischen Arktis erstellen. Kern des Projekts ist die Überquerung des Nordpols mit einem Zeppelin. Das Luftschiff wird mit einer elektromagnetischen Sonde bestückt, die vom Alfred-Wegener-Institut für Polar- und Meeresforschung, einem der 15 Forschungszentren der Helmholtz-Gemeinschaft, entwickelt wurde. Das spektakuläre Projekt des französischen Arztes Jean-Louis Etienne wird vom französischen Ölkonzern Total finanziert und am 5. April in Berlin vorgestellt. >>>more
http://www.total.de/de/detotal.nsf/POP_IMG?Readform&Img=/de/content/NT00014E5E.swf&W=800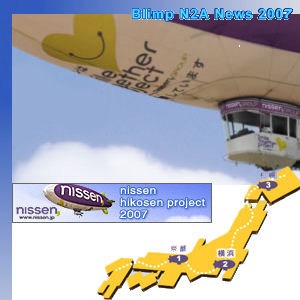 Tournée NISSEN
Depuis 2003 la société Japonaise NISSEN utilise des dirigeables publicitaires 1 à 2 mois tous les ans.
2003 blimp WDL 1B
2006 à 2006 blimp Lightship A60+
http://www.nissen.jp/hikosen2007/
Mars - - - March >>>>>> 2007
Дирижабль Au-30 совершил испытательный перелет 23 March 2007
Дирижабль Au-30 совершил испытательный перелет по маршруту г. Киржач Владимирской области - пос. Развилка Московской области. Пассажиры борта самолета Як-42 могли наблюдать в иллюминаторе дирижабль Au-30.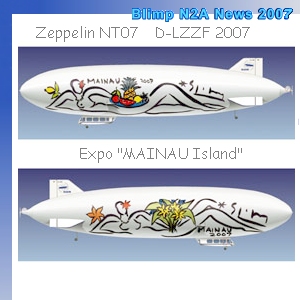 Mainau Island - Szczesny 2007 - A dream of an earthly paradise
A DREAM OF AN EARTHLY PARADISE, realised in co-operation with planners and designers on Mainau Island into the year 2007, is a year-round project designed to express the Mainau philosophy in the form of the art of Stefan Szczesny.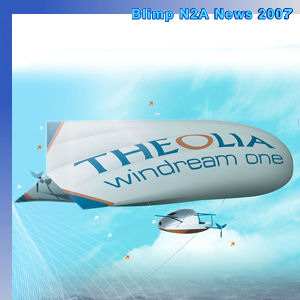 WINDREAM ONE

, Mardi 20 Mars 2007.

Présentation du projet de Stéphane Rousson, Beggy Bouchet et la société THEOLIA.

La traversée de l'atlantique en dirigeable en utilisant une propulsion non-polluante.

Paris : Official launch of the WINDREAM ONE project with Peggy Bouchet and Stéphane Rousson www.team-theolia.com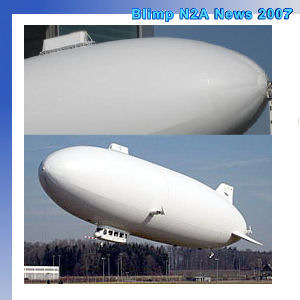 Bayerns Oberschicht vom Zeppelin aus erforscht
Im Sommer wird über Süddeutschland ein Zeppelin schweben. Der ist keine besonders originelle Werbeform, sondern erforscht Grenzschichten, Spurengase und Schadstoffe. Dazu nimmt der Zeppelin 600 Kilogramm schwere Geräte an Bord. >>>more
La Bavière la couche supérieure du Zeppelin étudie
Allemagne du sud, cet été un Zeppelin planera non pas à des fins publicitaires, mais pour étudier les couches limites de l'air, des gaz de trace et des polluants. Le Zeppelin embarquera 600kg d'appareils scientifiques.
Fund for poor country IT projects eyes high tech airship March 20, 2007
GENEVA (AFP) - A solar-powered airship that replaces communications satellites is one of a series of high tech projects that can help bridge the "digital divide," the organisers of an Information Technology fund for poor countries said Tuesday. >>>more http://www.todayonline.com/articles/178498.asp
Engines and Avionics Successfully Tested During GlobeTel's Subsidiary's Sanswire Networks' 2A Technology Demonstrator Stratellite Float Tuesday March 6

PALMDALE, Calif., March 6, 2007 (PRIME NEWSWIRE) -- Sanswire Networks LLC, subsidiary of GlobeTel Communications Corp. (Other OTC:GTEM.PK - News) announced that it successfully executed a tethered float test of Sanswire's 2A Technology Demonstrator on Sunday, March 4, 2007. The airship was floated to an altitude of 100 feet at the Sanswire facility to test vehicle control using new motor controllers with the onboard flight control system.
GlobeTel Communications' Sanswire Networks' 2A Technology Demonstrator Scheduled for Sunday Float Test of Critical Components March 1, 2007
PALMDALE, Calif., March 1, 2007 (PRIME NEWSWIRE) -- Sanswire Networks LLC, a subsidiary of GlobeTel Communications Corp. (Pink Sheets:GTEM) announced that the testing schedule for its Sanswire 2A Technology Demonstrator Stratellite(tm) calls for additional open-air tethered testing on Sunday, March 4, pending favorable weather conditions.
http://investor.globetel.net/phoenix.zhtml?c=67726&p=irol-newsArticle&ID=969180&highlight=
Février - - - February >>>>>> 2007
Blimp catches some eyes on Day 1 Saturday, February 24, 2007

Many of the eyes at Quail West went up to the skies. It was hard to miss.
The bright-blue Ginn TV Airship was circling the course. And it's not just any blimp. It's the first in the nation to be outfitted with a 30-foot-by-70-foot LED screen capable of delivering full-motion, full-color video day or night. >>>more
Cyber Defense''s Subsidiary Techsphere Preparing 3 Airships for Flight, Names 1st Airship "Columbus" ST. PETERSBURG, FL and ATLANTA, GA and COLUMBUS, GA, Feb 28, 2007
Cyber Defense Systems, Inc (OTCBB: CYDF ), a designer and developer of next generation unmanned aerial vehicles (UAVs), and its wholly owned subsidiary Techsphere Systems International, Inc. (TSI), (http://www.techsphere.us), a designer, developer and manufacturer of manned and unmanned airships, announced today the preparation for the SA-90 and the two new SA-60 airships and naming the first SA-60 airship Columbus. >>>more
Tustin OKs razing of historic blimp hangar
The WWII shelter will give way to a 2,105-home development project. Council finds other
proposals that would have used the building neither economically viable nor properly planned February 22, 2007
A historic wooden hangar that housed military blimps during World War II will be razed to make way for homes, businesses, parks and schools, Tustin city leaders decided this week.

The City Council voted unanimously Tuesday to reject proposals for a motocross facility, a culinary complex, shops catering to the elderly and a futuristic airship building center. Each would have preserved the hangar. The proposals, city staff found and council members agreed, were neither economically viable nor properly planned
http://www.latimes.com/news/local/la-me-hangar22feb22,1,1012905.story?track=rss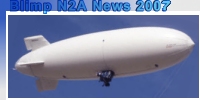 Worldwide Aeros Corp. Celebrates as the newest Aeros 40D Sky Dragon Airship Receives the FAA Type Certification. EMAILWIRE.COM, February 02, 2007
The LTA world is joined by the newest and the most technologically advanced Aeros 40D Sky Dragon Airship, as the company celebrates this monumental milestone.
( EMAILWIRE.COM, February 02, 2007 ) Los Angeles, CA -- Today Worldwide Aeros Corp., manufacturer of a family of lighter-than-air airborne platforms, was issued the Type Certificate for its latest airship model the Aeros 40D Sky Dragon.
"This seal of approval is a major highlight for the Aeros 40D program. It signifies the tireless efforts that the Aeros creative team has put into the development of this new and advanced LTA vehicle," said Igor Pasternak, Aeros President and CEO.
The 40D "Sky Dragon" was designed around the market demand for an airship capable of multi-mission applications that ranges from advertising and broadcast camera work to sensor suites platform, while maintaining a low cost of operation. The Aeros 40D is 153ft long with 100,000 cubic ft of volume. >>>more
Banana Hammocks Over Texas February 27, 2007
The Geostationary Banana Over Texas project is a planned banana-shaped airship to be launched over the state of Texas in the summer of 2008. >>>more
www.geostationarybananaovertexas.com
Janvier - - - January >>>>>> 2007
Fans to fly high after match ban BBC News 11 January 2007
Thirty Cardiff City football fans hope to have a birds-eye view of the next away game when they watch it from an airship above the pitch.
It follows a decision by Wolverhampton Wanderers to ban all Bluebirds fans from the match on 20 January. >>>more
Il loue un dirigeable pour assister au match de son équipe préférée
Un amateur de soccer britannique a décidé de louer un dirigeable pour pouvoir assister au match de son équipe favorite, Cardiff City. >>>la suite
TOTAL POLE AIRSHIP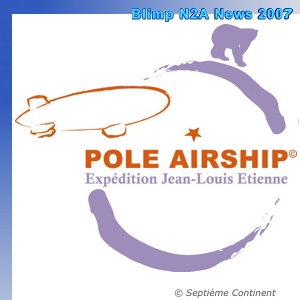 L'explorateur Jean-Louis Étienne survolera l'Arctique en dirigeable Agence France-Presse 11 janvier 2007
L'explorateur français Jean-Louis Étienne, spécialiste du Grand Nord, va survoler l'océan glacial Arctique en dirigeable en avril et mai 2008 dans le but de mesurer l'épaisseur de l'ensemble de la banquise, indice essentiel du réchauffement climatique.

Cette expédition Total Pôle Airship, qui réunit une équipe internationale, était initialement prévue pour avril 2007, mais elle n'a pu être mise au point en si peu de temps. L'aventure a toutefois déjà commencé, puisque la construction du dirigeable a débuté en Russie en octobre dernier, a précisé M. Étienne >>> la suite
http://www.jeanlouisetienne.fr/poleairship/default.cfm
Im Luftschiff über den Arktischen Ozean: Jean-Louis Etienne kehrt für Expedition Total Pole Airship an den Nordpol zurück
Paris (ots) -
Spitzbergen, Nordpol, Alaska - diese Namen lassen die Herzen all derer höher schlagen, die den hohen Norden und das Packeis lieben. Leider ist diese Welt heute bedrohter denn je. Anlässlich des vierten Internationalen Polarjahrs hat Jean-Louis Etienne* diese Route für
seine Überquerung des Arktischen Ozeans im Luftschiff gewählt.
Spirit of Dubai reaches its final European destination, Greece 3-Jan-2007
The Spirit of Dubai, an airship launched by Dubai-based real estate company Nakheel to mark the moving of the first residents to the Palm Jumeriah Island, has reached Greece, its final European destination >>>more